HUBUNGAN KARAKTERISTIK JARINGAN DAUN DENGAN TINGKAT SERANGAN PENYAKIT BLAS DAUN (Pyricularia oryzae Cav.) PADA BEBERAPA GENOTIPE PADI (Oryza sativa L.)
Abstract
ABSTRACT
Blast is the oldest disease in the world (Valent, 2004). In 1975 according to Chin, blast could be found in more than 85 countries of rice field include Asia, America Latin and Africa. Blast disease could been decreased rice production up to 70% and it infected all stadia such as leaf, noodle, panicle neck, but seldom found on midrib of leaf. Agrios (2004) proposed that there was structural defenses on leaf surface which was main factor of plant defense. The study aim to determine the resistance of some rice genotypes were tested against leaf blast disease and to determine the influence of leaf tissue characteristic that is epidermal thickness to the leaf blast attack. Based on this research was known that only several rice genotypes showed correlation between epidermal thickness of leaf with intensity of leaf blast attack. The moderate genotypes of rice had a thicker epidermal cells than the susceptible genotypes. The epidermis is one of defenses on rice against leaf blast disease thus strengthness and thickness of epidermal cells would impede a direct penetration of the pathogen or it can't be penetrated at all (Agrios, 1994).
Keyword: leaf blast, structural defense, epidermal thickness of leaf, intensity of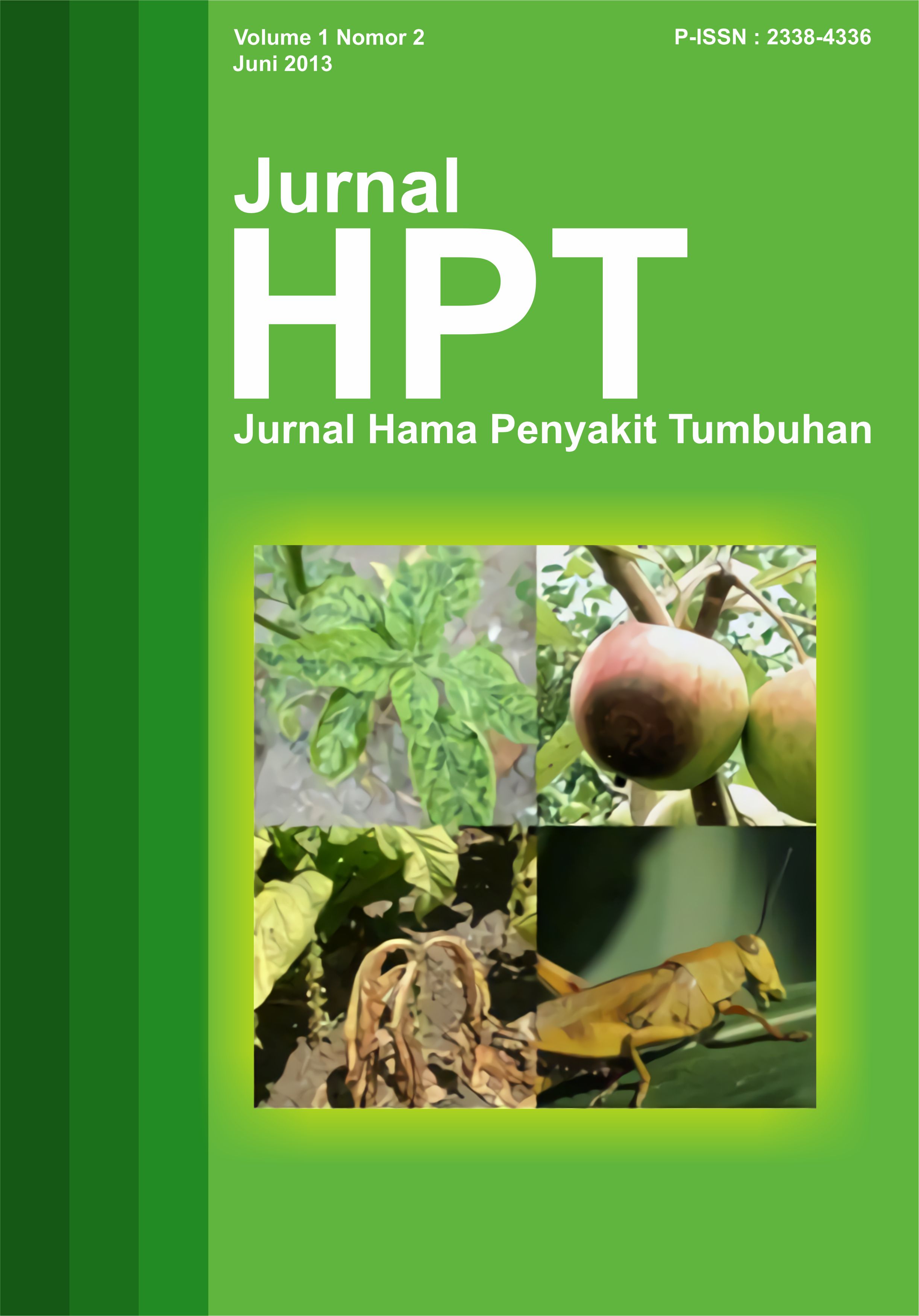 Downloads
How to Cite
Dewi, I. M., Cholil, A., & Muhibuddin, A. (2013). HUBUNGAN KARAKTERISTIK JARINGAN DAUN DENGAN TINGKAT SERANGAN PENYAKIT BLAS DAUN (Pyricularia oryzae Cav.) PADA BEBERAPA GENOTIPE PADI (Oryza sativa L.). Jurnal HPT (Hama Penyakit Tumbuhan), 1(2), pp. 10–18. Retrieved from https://jurnalhpt.ub.ac.id/index.php/jhpt/article/view/13
License
Copyright (c) 2013 Jurnal Hama dan Penyakit Tumbuhan
This work is licensed under a Creative Commons Attribution-NonCommercial 4.0 International License.
The copyright of the received article shall be assigned to the journal as the publisher of the journal. The intended copyright includes the right to publish the article in various forms (including reprints). The journal maintains the publishing rights to the published articles.

This work is licensed under a Creative Commons Attribution-NonCommercial 4.0 International License.