KETAHANAN LIMA VARIETAS TANAMAN CABAI RAWIT (Capsicum frutescens L.) TERHADAP INFEKSI TMV (TOBACCO MOSAIC VIRUS) PADA UMUR TANAMAN YANG BERBEDA
Abstract
Diseases caused by TMV (Tobacco Mosaic Virus) on chili is important to note
because it can cause a loss. Chili varieties are currently circulating in the market
and have not been evaluated resistance to TMV (Tobacco Mosaic Virus).
Therefore, research is needed on the effects of the attack TMV (Tobacco Mosaic
Virus) on the growth, production and resistance to chili varieties such. The initial
symptoms are the same, namely the emergence of a mosaic on the leaves of young
plants, followed by chlorosis due to reduced chlorophyll content of plants for
photosynthesis disturbed then a widespread and causes the leaves begin to show
symptoms of the malformation. Leaves of the plant having malformations (leaves
shriveled). The results showed that TMV infection can suppress plant growth and
decrease crop production. Treatment plant inoculation at different ages apparently
significant effect on plant growth as well as production plants. Chili plants
infected with virus at a very young age the rate of plant growth and development
is inhibited, so the plants will grow abnormally. Based on the parameters used to
calculate the resistance category chili tested against TMV virus showed that the
varieties are very susceptible Sonar and Bara, Cakra susceptible, moderately
resistant while TM Rawit, Samaru resistant to TMV infection.

Keywords: Chili plants, TMV, inoculation, infection and resistance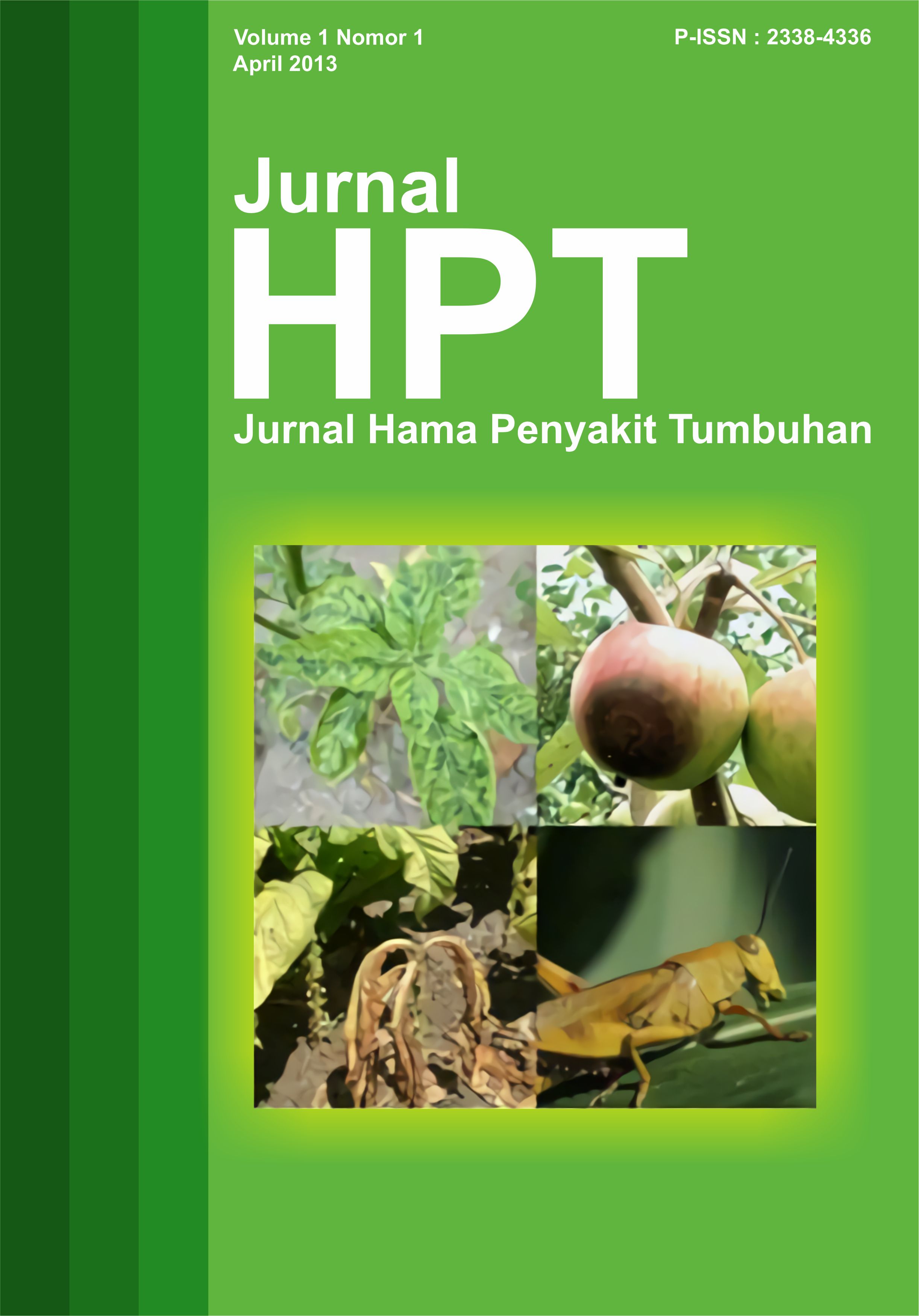 Downloads
How to Cite
Kusumawati, D. E., Hadiastono, T., & Martosudiro, M. (2013). KETAHANAN LIMA VARIETAS TANAMAN CABAI RAWIT (Capsicum frutescens L.) TERHADAP INFEKSI TMV (TOBACCO MOSAIC VIRUS) PADA UMUR TANAMAN YANG BERBEDA. Jurnal HPT (Hama Penyakit Tumbuhan), 1(1), pp. 66–79. Retrieved from https://jurnalhpt.ub.ac.id/index.php/jhpt/article/view/8
License
Copyright (c) 2013 Jurnal Hama dan Penyakit Tumbuhan
This work is licensed under a Creative Commons Attribution-NonCommercial 4.0 International License.
The copyright of the received article shall be assigned to the journal as the publisher of the journal. The intended copyright includes the right to publish the article in various forms (including reprints). The journal maintains the publishing rights to the published articles.

This work is licensed under a Creative Commons Attribution-NonCommercial 4.0 International License.