PENGARUH PEMBERIAN EKSTRAK DAUN SIRIH (Piper betle L.) SEBAGAI FUNGISIDA NABATI TERHADAP PENYAKIT HAWAR DAUN JAGUNG (Exserohilum turcicum (Pass.) Leonard and Suggs) PADA KONSENTRASI YANG BERBEDA
Abstract
ABSTRACT
The research is to determined the ability of active compounds containing in the extract of Piper betle leaf to control the growth and development of Exserohilum turcicum. The active compounds were extracted from dry leaves of P. betle using methanol and n hexane as solvent. GC-MS was used to characterize the composition of the extract. There were in vitro and in vivo tests. The research used Completely Randomized Design (CRD) with 5 treatments that replaced 5 times, they were concentrated extract on concentration 0.1 g/l, 2.5 g/l, 4 g/l and 7 g/l, compared with media without P. betle leaf extract as control. The GC-MS test showing that the n hexane extract has active compounds of eugenol 44.04% naphtalene 11.21%, alpha-selinene 11.63% and chavicol 3.84%. The methanol extract has active compounds of carvacrol 68.34%, eugenol 14.68% and chavicol 8.95%. Furthermore, in vitro test finds out that n hexane extract with concentration 7 g/l effectively inhibited fungal growth of 47.8%. Concentration 7 g/l in metanol extract find out effective to inhibit of 59.92% the growth of E. turcicum. Whereas, in vivo test using concentration 7 g/l showed effective inhibit the growth and the development of lesion with 6 spot/leaves.
 
Keyword : P. betle leaf extract, active compounds of P. betle leaf, Exserohilum turcicum.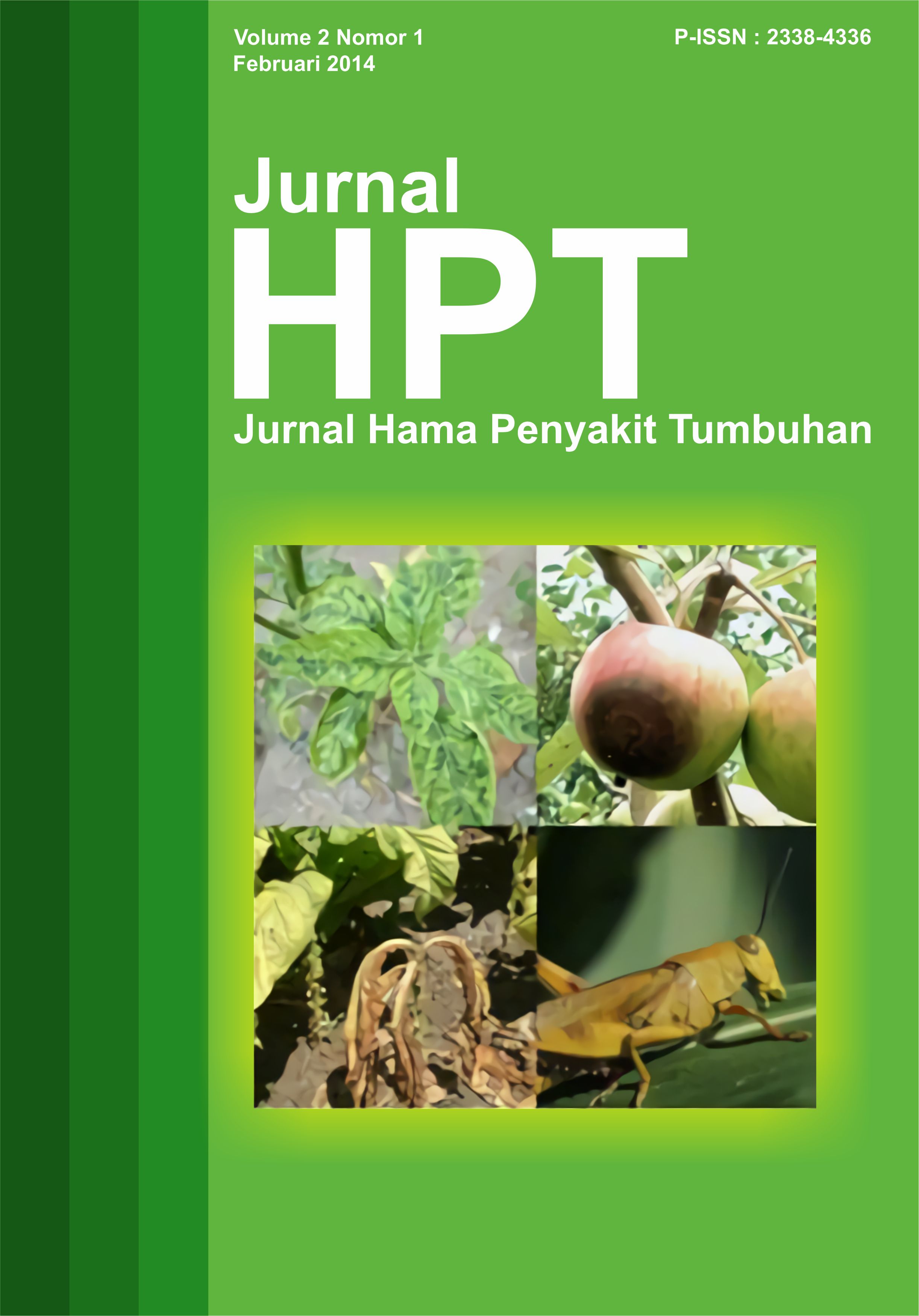 How to Cite
Ningrum, M. R., Cholil, A., Djauhari, S., & Utomo, E. P. (2014). PENGARUH PEMBERIAN EKSTRAK DAUN SIRIH (Piper betle L.) SEBAGAI FUNGISIDA NABATI TERHADAP PENYAKIT HAWAR DAUN JAGUNG (Exserohilum turcicum (Pass.) Leonard and Suggs) PADA KONSENTRASI YANG BERBEDA. Jurnal HPT (Hama Penyakit Tumbuhan), 2(1). Retrieved from https://jurnalhpt.ub.ac.id/index.php/jhpt/article/view/79
License
Copyright (c) 2014 Jurnal Hama dan Penyakit Tumbuhan
This work is licensed under a Creative Commons Attribution-NonCommercial 4.0 International License.
The copyright of the received article shall be assigned to the journal as the publisher of the journal. The intended copyright includes the right to publish the article in various forms (including reprints). The journal maintains the publishing rights to the published articles.

This work is licensed under a Creative Commons Attribution-NonCommercial 4.0 International License.