DAYA ANTAGONIS TIGA JAMUR PATOGEN SERANGGA TERHADAP JAMUR PATOGEN TULAR TANAH Fusarium sp. (HYPOCREALES: NECTRIACEAE) SECARA IN VITRO
Keywords:
Beauveria bassiana, daya hambat, Fusarium sp., in vitro, Lecanicillium lecanii, mekanisme antagonis, Metarhizium anisopliae
Abstract
Fusarium sp. merupakan jamur patogen tular tanah penyebab penyakit layu fusarium pada tanaman tomat, dimana kerugian yang ditimbulkan dapat mencapai 20-30%. Metode efektif untuk mengendalikan pathogen tanaman ini masih sulit ditemukan. Jamur patogen serangga merupakan agens hayati yang sudah banyak dimanfaatkan untuk mengendalikan serangga hama. Namun penelitian terkini membuktikan bahwa jamur ini juga berpotensi untuk mengendalikan patogen tanaman, terutama yang disebabkan oleh patogen tular tanah. Tujuan penelitian ini yaitu untuk membandingkan daya antagonis tiga jamur patogen serangga yaitu B. bassiana, M. anisopliae dan L. lecanii terhadap Fusarium sp. secara in vitro. Hasil penelitian menunjukkan bahwa L. lecanii memiliki daya hambat tertinggi terhadap pertumbuhan miselium Fusarium sp. sebesar 65,1%, dengan membentuk mekanisme kompetisi, sedangkan B. bassiana dan M. anisopliae memiliki daya hambat yang sama terhadap pertumbuhan miselium Fusarium sp., masing-masing sebesar 43,87% dan 43,06% dengan membentuk mekanisme antibiosis.
References
Askary H, Y Carriere, RR Belanger, J Brodeur. 1998. Pathogenicity of the Fungus Verticillium lecanii to Aphids and Powdery Mildew. Biological Science and Tecnology 8: 23-32.
Benhamou N. 2004. Potential of the Mycoparasite, Verticillium lecanii, to Protect Citrus Fruit Against Penicillium digitatum, the Causal Agent of Green Mold: A Comparison with the Effect of Chitosan. Journal of Phytopathology 94: No. 7.
Fety SK dan Mukarlina. 2015. Uji Antagonis Jamur Rizosfer Isolat Lokal terhadap Phytophthora sp. yang Diisolasi dari Batang Langsat (Lansium domesticum Corr.). Protobiont (2015) Vol. 4 (1) : 218-225.
Gothandapani S, G Boopalakrishnan, N Prabhakaran, BS Chethana, M Aravindhan, M Saravanakumar, G Ganeshan. 2014. Evaluation of entomopathogenic fungus against Alternaria porri (Ellis) causing purple blotch disease of onion. Phytopathology and Plant Protection 48: 135-144.
Kim JJ, SG Mark, RG, David. 2008. Evaluation of Lecanicillium longisporum, Vertalec for simultaneous suppression of cotton aphid, Aphis gossypii, and cucumber powdery mildew, Sphaerotheca fuliginea, on potted cucumbers. Biological Control 45: 404-409.
Miller TC, WD Gubler, FF Laemmlen, S Geng, DM Rizzo. 2004. Potential for Using Lecanicillium lecanii for Suppression of Strawberry Powdery Mildew. Biological Science and Tecnology 14: 215-220.
Nastiti DI. 2015. Potensi Antagonis Jamur Entomopatogen Lecanicillium lecanii Zimm (Hypocreales: Clavicipitaceae) dalam Mengendalikan Jamur Patogen Tanaman Colletrotichum capsici secara In Vitro. Malang: Fakultas Pertanian Universitas Brawijaya.
Parine NR, D Kumar, AA Khan P, V Bobbarala. 2010. Antifungal Efficacy of Secondary Metabolites from Entomopathogenic Fungi Beauveria bassiana. Journal of Pharmacy Research 3 (4): 855-856.
Raka IG. 2006. Eksplorasi dan Cara Aplikasi Agensia Hayati Trichoderma sp. Sebagai Pengendali Organisme Pengganggu Tumbuhan (OPT). Dinas Pertanian Tanaman Pangan UPTD Balai Proteksi Tanaman Pangan dan Holtikultura. Bali.
Ravindran K, S Chitra, A Wilson and S Sivaramakrishnan. 2014. Evaluation of Antifungal Activity of Metarhizium anisopliae Againts Plant Phytopathogenic Fungi. Microbial Diversity and Biotecnology in Food Security: 251-255.
Rustama MM, Melanie dan Budi I. 2008. Patogenisitas Jamur Entomopatogen Metarhizium anisopliae terhadap Crocidolomia pavonana Fab. dalam Kegiatan Studi Pengendalian Hama Terpadu Tanaman Kubis dengan Menggunakan Agensia Hayati. Bandung: FMIPA Universitas Padjadjaran.
Sahab AF. 2012. Antimicrobial Efficacy of Secondary Metabolites of Beauveria Bassiana Against Selected Bacteria and Phytopathogenic Fungi. Journal of Applied Sciences Research 8 (3): 1441-1444.
Sanivada SK dan C Muralimohan. 2014. Mycolytic Effect of Extracellular Enzymes of Entomopathogenic Fungi to Colletotrichum falcatum, Red Rot Pathogen of Sugarcane. Journal Biopest 7: 33-37.
Sasan RK dan MJ Bidochka. 2013. Antagonism of the endophytic insect pathogenic fungus Metarhizium robertsii against the bean plant pathogen Fusarium solani f. sp. phaseoli. Canadian Journal of Plant Pathology 35: 288-293.
Semangun H. 2001. Penyakit-penyakit Tanaman Perkebunan Indonesia. Yogyakarta: Gajah Mada Univ Press.
Susanna TC dan A Pratama. 2010. Dosis dan Frekuensi Kascing untuk Pengendalian Penyakit Layu Fusarium pada Tanaman Tomat. Jurnal Floratek 5: 152-163.
Tovar MDL, A Ortiz-Urquiza, I Garrido-Jurado, A Traperro-Casas, and E Quesada-Moraga. 2013. Assessment of Entomopathogenic Fungi and Their Extract Againts A Soil-dwelling Pest and Soil-borne Pathogens of Olive. Biological Control 67: 409-420.
Yulianto E. 2014. Evaluasi Potensi Beberapa Jamur Agen Antagonis dalam Menghambat Patogen Fusarium sp. pada Tanaman Jagung (Zea mays L.). Fakultas Pertanian Universitas Bengkulu.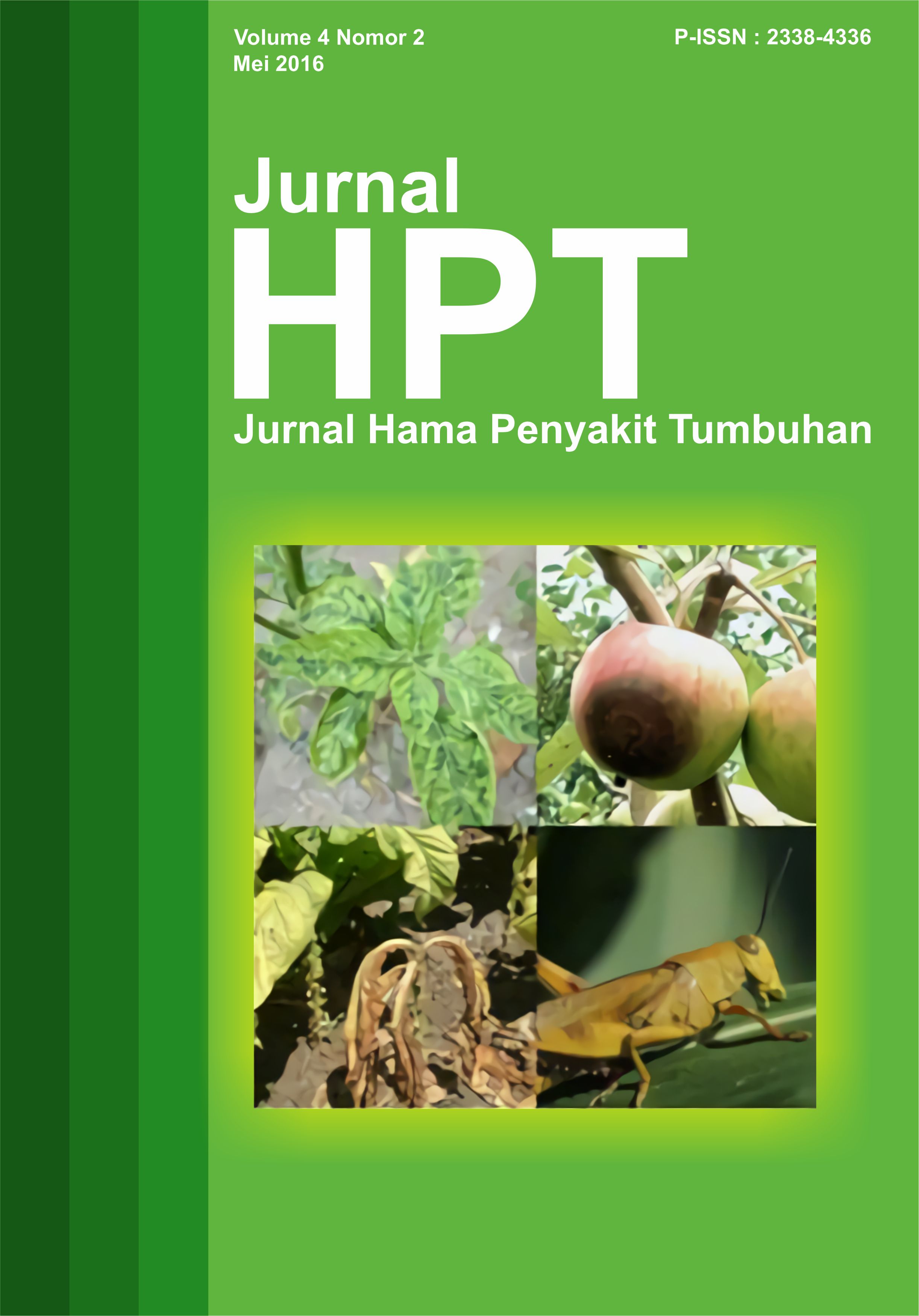 Downloads
How to Cite
Rachmawati, R., Rahabistara, A., & Afandhi, A. (2017). DAYA ANTAGONIS TIGA JAMUR PATOGEN SERANGGA TERHADAP JAMUR PATOGEN TULAR TANAH Fusarium sp. (HYPOCREALES: NECTRIACEAE) SECARA IN VITRO. Jurnal HPT (Hama Penyakit Tumbuhan), 4(2), 93–101. Retrieved from https://jurnalhpt.ub.ac.id/index.php/jhpt/article/view/234
License
Copyright (c) 2017 Jurnal Hama dan Penyakit Tumbuhan
This work is licensed under a Creative Commons Attribution-NonCommercial 4.0 International License.
The copyright of the received article shall be assigned to the journal as the publisher of the journal. The intended copyright includes the right to publish the article in various forms (including reprints). The journal maintains the publishing rights to the published articles.

This work is licensed under a Creative Commons Attribution-NonCommercial 4.0 International License.