KEANEKARAGAMAN JAMUR ENDOFIT PADA DAUN TANAMAN PADI (Oryza Sativa L.) DENGAN SISTEM PENGELOLAAN HAMA TERPADU (PHT) DAN KONVENSIONAL DI DESA BAYEM, KECAMATAN KASEMBON, KABUPATEN MALANG
Abstract
ABSTRACT
This research aims to find out is the process of rice cultivation affects the diversity of endophytic fungi in leaf tissues of rice crops. Leaves sampling of rice crops in IPM and conventional done in the Bayem village, Kasembon subdistrict, Malang regency and isolation of endophytic fungi in the mycology laboratory, Department of Plant Pest and Disease Brawijaya University Malang in May to July 2012. The study was conducted by survey, exploration and comparison. Exploration results endophytic fungi in conventional and IPM field obtained Aspergillus sp., Penicillium sp., Nigrospora sp., Trichoderma sp., Curvularia sp. and unidentified fungi. The endophytic fungi only found in the IPM field are Mucor sp., Mastigosporium sp., Alternaria sp., Fusarium sp. and Monosporium sp. whereas fungi are only found in conventional field are Verticillium sp. and Acremonium sp. Endophytic fungi diversity index in IPM field is 4, including in the high category, while in conventional field is 3, including in the medium category, the dominance index of endophytic fungi in IPM field is 0.001010101 whereas in conventional field is 0.024193548. The dry grain yields of rice crops in IPM field higher than conventional field are 45 kw with 4,000 m² of land area, harvest tile are 1.12 kg / m², while in conventional field are 13, 30 kw with 1,600 m² of land area. tile harvest 0.83 kg / m².
Keywords: Endophytic fungi, diversity, IPM, rice.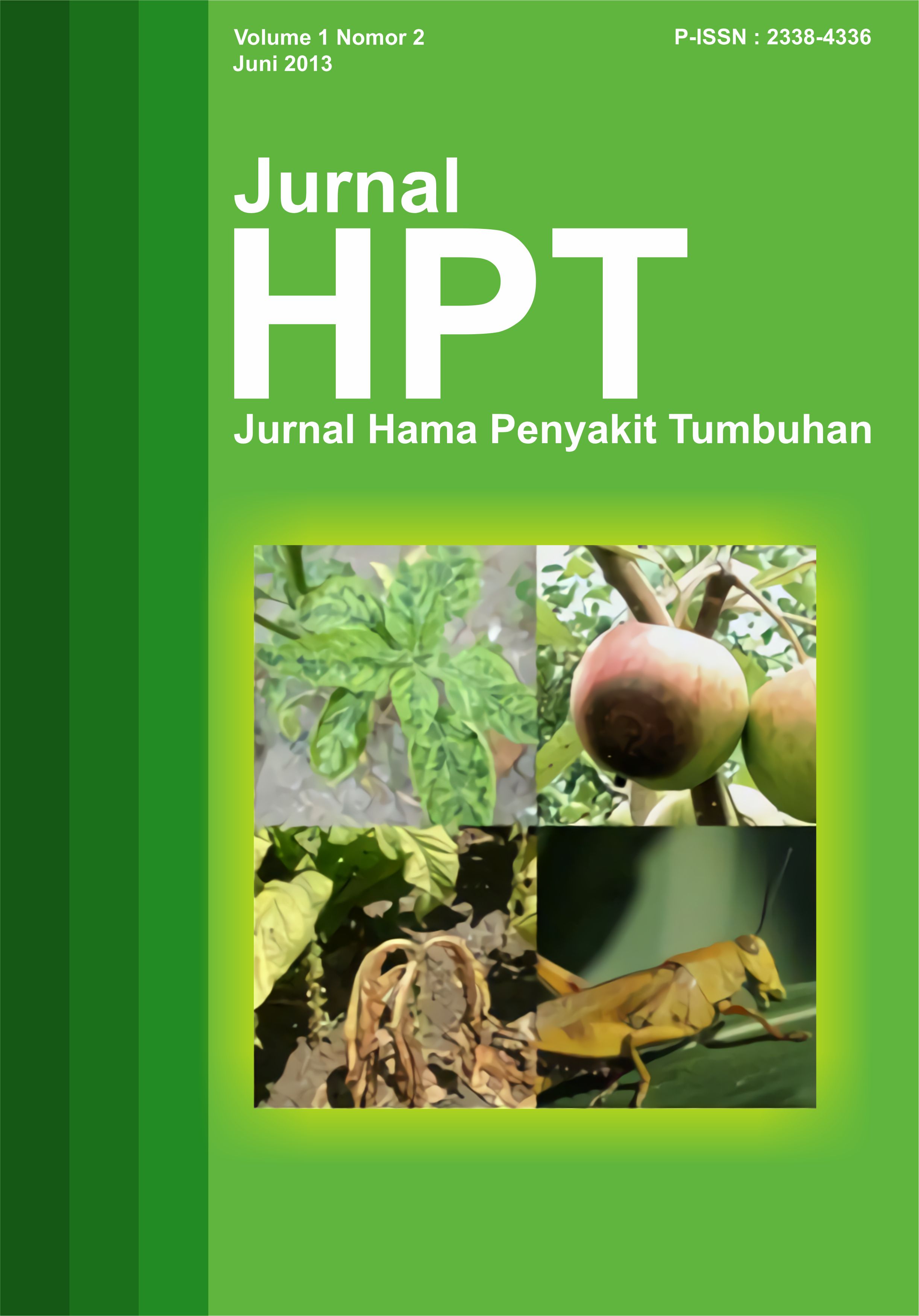 Downloads
How to Cite
Ariyanto, E. F., Abadi, A. L., & Djauhari, S. (2013). KEANEKARAGAMAN JAMUR ENDOFIT PADA DAUN TANAMAN PADI (Oryza Sativa L.) DENGAN SISTEM PENGELOLAAN HAMA TERPADU (PHT) DAN KONVENSIONAL DI DESA BAYEM, KECAMATAN KASEMBON, KABUPATEN MALANG. Jurnal HPT (Hama Penyakit Tumbuhan), 1(2), pp. 37–51. Retrieved from https://jurnalhpt.ub.ac.id/index.php/jhpt/article/view/16
License
Copyright (c) 2013 Jurnal Hama dan Penyakit Tumbuhan
This work is licensed under a Creative Commons Attribution-NonCommercial 4.0 International License.
The copyright of the received article shall be assigned to the journal as the publisher of the journal. The intended copyright includes the right to publish the article in various forms (including reprints). The journal maintains the publishing rights to the published articles.

This work is licensed under a Creative Commons Attribution-NonCommercial 4.0 International License.