PENGARUH PEMBERIAN PUPUK DAUN CAIR TERHADAP INTENSITAS SERANGAN Tobacco Mosaic Virus (TMV), PERTUMBUHAN, DAN PRODUKSI TANAMAN TEMBAKAU (Nicotiana tabacum L.)
Abstract
ABSTRACT
Virginia tobacco (Nicotiana tabacum L.) is an industrial plant with a fairly high
economic value in Indonesia. One constraint of t tobacco cultivation is a disorder
diseases such as mosaic disease that caused by Tobacco Mosaic Virus that can
reduce yields and degrade leaf tobacco (Semangun, 1996). One effort to produce a healthy business is tobacco fertilization. The dose and ratio of NPK fertilizer can squeeze vulnerability and increase the resilience of crops to diseases, especially diseases of TMV in tobacco. Implementation of the research began in January- May 2012 in the greenhouse and the laboratory of plant pathology, Faculty of Agriculture University of Brawijaya Malang. The research was carried out using a complete randomized design (RAL) are composed of two factors with treatment 4 concentration (0%, 0,3%, 0,5%, 1%), and 3 the number of the application (1x, 2x, 5x). Each treatment was repeated three times. From all leaf fertilizer application and the amount of leaf fertilizer liquid, the concentration ratio of 0.3% with 2x the number of applications on a 7 day time interval indicates the weight of wet leaves on the highest of 95,467 grams of dried leaves with weights of 11,430 grams.
Key words : Virginia tobacco, Tobacco Mosaic Virus, Leaf fertilizer liquid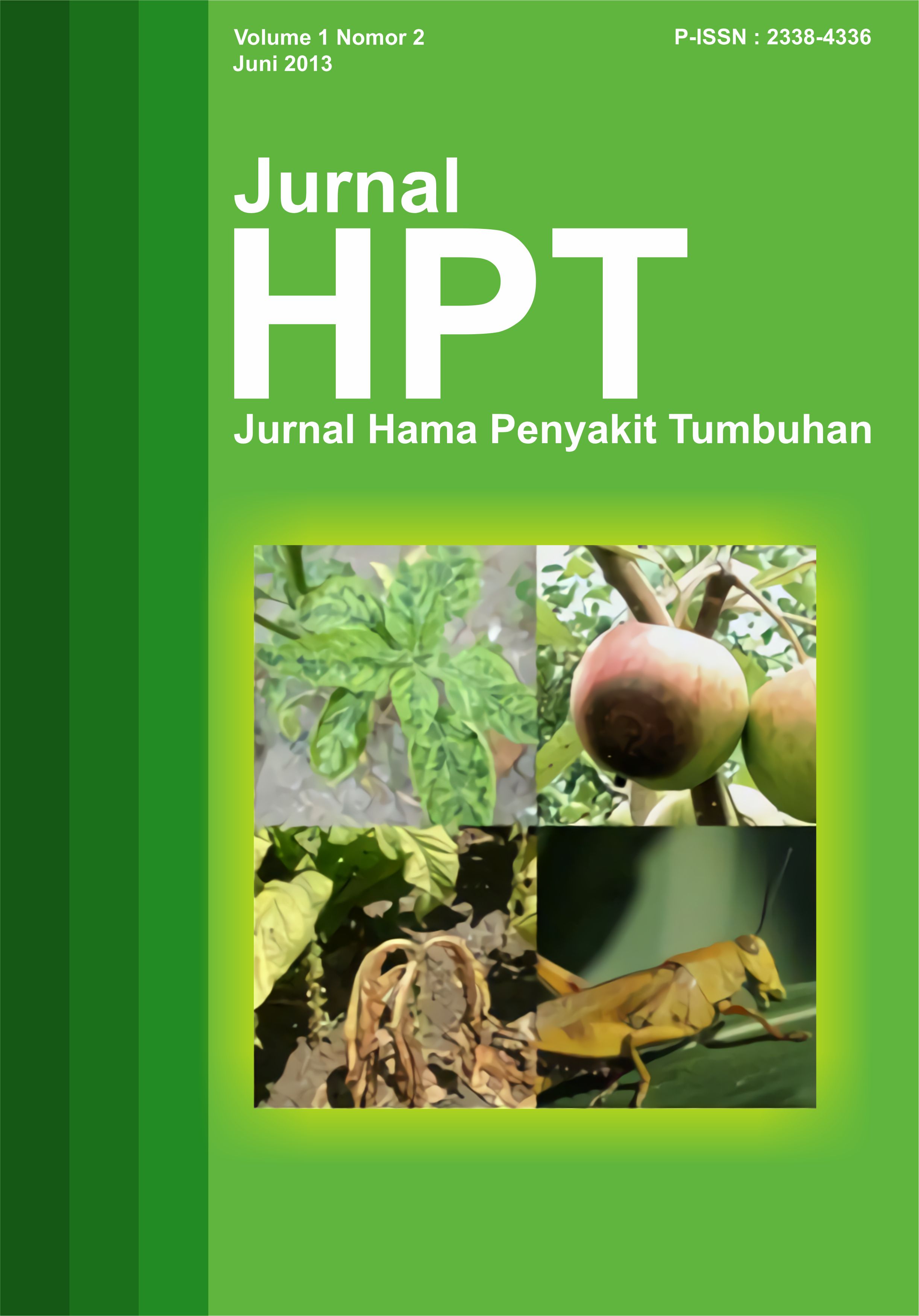 Downloads
How to Cite
Hanadyo, R., Hadiastono, T., & Martosudiro, M. (2013). PENGARUH PEMBERIAN PUPUK DAUN CAIR TERHADAP INTENSITAS SERANGAN Tobacco Mosaic Virus (TMV), PERTUMBUHAN, DAN PRODUKSI TANAMAN TEMBAKAU (Nicotiana tabacum L.). Jurnal HPT (Hama Penyakit Tumbuhan), 1(2), pp. 28–36. Retrieved from https://jurnalhpt.ub.ac.id/index.php/jhpt/article/view/15
License
Copyright (c) 2013 Jurnal Hama dan Penyakit Tumbuhan
This work is licensed under a Creative Commons Attribution-NonCommercial 4.0 International License.
The copyright of the received article shall be assigned to the journal as the publisher of the journal. The intended copyright includes the right to publish the article in various forms (including reprints). The journal maintains the publishing rights to the published articles.

This work is licensed under a Creative Commons Attribution-NonCommercial 4.0 International License.